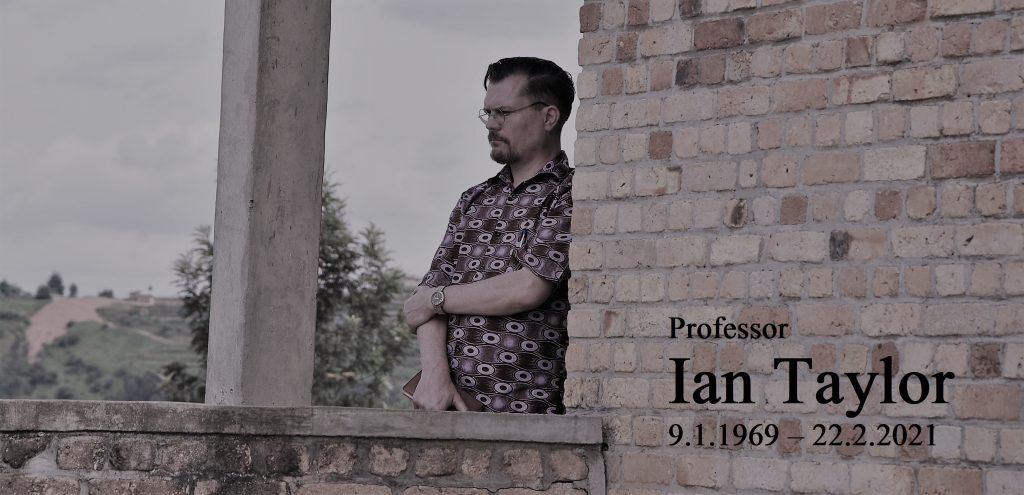 Last year in February, Professor Ian Taylor of the University of St Andrews passed away after a short struggle with cancer. Ian was a world-renowned scholar in the fields of African Studies, International Relations and Global Political Economy. Besides his remarkable academic achievements, Ian was an extremely passionate educator as well as a kind, humorous and supportive colleague and friend to many of us. This is a modest attempt at paying tribute to an inspiring intellectual and true friend of Africa.
Together with his twin brother Eric, Ian grew up on the Isle of Man, before the family relocated to West London where he spent his teens and would become a die-hard Brentford FC supporter – in his words a '100% local club'. Whilst there were few points of contact to Africa on the small Crown dependency in the Irish Sea, Ian, early on, developed an interest in Africa, as he heard stories from his grandmother whose parents had lived in South Africa, and where a large network of relatives still live.
After reading History and Politics at what was then the Leicester Polytechnic, Ian used a gap year in 1991-92 for his first travel to southern Africa – obviously at quite a formative time for the region. This trip clearly left a firm impression on him, as he would return to the region throughout his life. However, first he joined Jo, the love of his life whom he met in South Africa, when she took up Ph.D studies at the University of Hong Kong in 1994. Ian enrolled himself for a Master's there. His 368-pages M.Phil thesis on China's foreign policy vis-à-vis Africa laid the cornerstone for one of his research specialisations and arguably also for a new sub-discipline, China-Africa studies. One of his first academic articles, an output from his M.Phil research, was published in the Journal of Modern African Studies and has since been cited 357 times (Taylor 1998). Exactly 18 years later, Ian became co-editor-in-chief of this prestigious journal, together with Ebenezer Obadare.
Continue reading

"Remembering Ian Taylor"