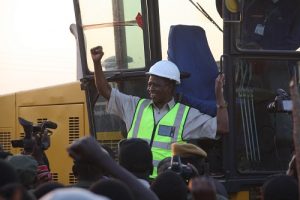 I just gave an interview on the Zambia visit of Chinese top diplomat Yang Jiechi. Some of my answers you can read here.
What is the significance of Yang's visit as Lusaka faces debt troubles and prepares to go into elections?
TZ: There can be no doubt that Zambia's fiscal situation is on top of the agenda during Yang Jiechi's Lusaka visit, as negotiations between the Zambian treasury and the IMF about a possible rescue package are in full swing. Both the IMF and private creditors have repeatedly insisted that the Zambian government discloses all its liabilities. This includes terms and conditions of loans and export credits from China as well as state guarantees provided by Lusaka to Chinese lenders. The negotiations between Zambia and the IMF are therefore not only of economic concern to Chinese creditors but also politically very sensitive. As member of the Politburo and Director of the Central Foreign Affairs Commission Yang Jiechi reports directly to President Xi. It is very likely that Yang and his delegation are instructed to discuss Zambia's debt and Yang is certainly authorised to take far-reaching decisions where needed.
Lusaka will plead for further concessions from Chinese policy banks which hold the lion share of debt owed to China, as Lungu's government faces a major dilemma. It needs a bailout package from the IMF better sooner than later. Yet, in the light of the elections in August the Zambian government would like to avoid further unpopular spending cuts that will be attached to such an IMF package. Any concession from Chinese lenders would give the government fiscal breathing space and would come extremely handy for President Lungu in what will be a heated election campaign. The political opposition in Zambia has long castigated Lungu for poorly managing the Zambian economy and accumulating unsustainable levels of external debt. In contrast to 2016, Lungu's government is no longer in a fiscal position to give out election gifts to its constituents. After ten years in power, the dominant political position of the ruling party Patriotic Front is in jeopardy. On the occasion of Yang's visit, the Zambian government therefore goes to great lengths to emphasise China's support for development and infrastructure projects across the country.