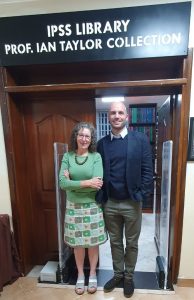 On 26 September 2023, I attended the official opening of the "Professor Ian Taylor Collection" at the Institute for Peace and Security Studies (IPSS) at Addis Ababa University.
After more than two years of team effort to fundraise and organise the transfer of the private library of the late Professor Ian Taylor, we were extremely grateful to see the beautiful new home of the book collection.
Here you can read the speech I delivered at the official opening ceremony at the IPSS:
Dear Director Dr. Fana Gebresenbet,
dear Mr. Ockenden,
dear Mr. Bekele,
dear IPSS team,
dear Jo,
dear friends and colleagues of Ian who join us from all over the world,
Today, we inaugurate the Professor Ian Taylor Collection here at the Institute for Peace and Security Studies at Addis Ababa University.
Ian Taylor passed away in February 2021 after a short struggle with cancer. He was Professor in International Relations and African Political Economy at the University of St Andrews in the UK. He also held extraordinary and visiting professorships at Renmin University and Zhejiang Normal University in China and at Stellenbosch University in South Africa. Ian was also a visiting professor at Addis Ababa University. For several years, he taught PhD students here at the IPSS, an institution which he spoke highly of and which he very much enjoyed visiting regularly.
Continue reading

"Official inauguration of the Professor Ian Taylor Collection in Addis Ababa"