I was asked to comment on Chinese Foreign Minister Wang Yi's Africa tour as well as on likely developments in Africa-US relations post-Trump. Some of my answers I share here.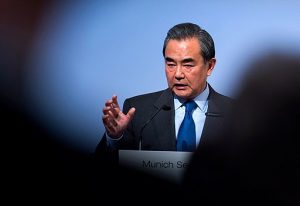 What are the goals of Wang Yi's trip to Africa and how would you evaluate the results?
TZ: Whilst it has become a tradition for Chinese foreign ministers to travel to Africa for their first overseas trips of the year, Wang's five-country tour last week was of particular political significance. Wang's Africa visits can be interpreted as a reassurance of China's commitment to Africa amidst the economic turmoil caused by the Covid-19 pandemic. Many African economies are highly dependent on trade with and investment from China for their post-Corona recovery.
China's support for Africa's response to the Covid-19 pandemic has been on top of the agenda during Wang's Africa visit. As political discussions around the global distribution of Covid-19 vaccines are in full swing, Wang used his Africa tour to diplomatically facilitate the roll-out of Chinese vaccines across the continent. During Wang's visit to Nigeria, the government in Abuja agreed to procure Chinese-made vaccines to fight the spread of the Coronavirus in Africa's most populous country.
The race for a corona vaccine and its distribution in the Global South has long become a geopolitical matter. For the Chinese government, the provision of a vaccine that is affordable and does not pose unsurmountable logistical challenges is not only a humanitarian question but also an opportunity to flex its 'soft power muscle' in Africa. While Western governments squabble over vaccine supplies for their own populations, Wang did not get tired on his Africa tour to stress that Beijing will make sure that Chinese vaccines will be made available to African countries as soon as possible. Wang's Africa visit was exemplary for the 'vaccine diplomacy' that will be a crucial component of Chinese foreign policy in the Global South for the foreseeable future.
China's most promising vaccine candidates offer crucial advantages for a comprehensive roll-out in Africa. Unless and until heavily subsidised by the West, the Moderna and Pfizer/Biontech vaccines are simply unaffordable for most African governments. Equally important, three out of the four most promising Chinese vaccine candidates, including the one from Sinopharm, use a weakened or inactivated form of the virus. This comes with the advantage that the vaccine can be transported and stored at much higher temperatures than mRNA vaccines, which in turn caters much better for the logistical realities in many parts of Africa, particularly beyond urban areas. The other vaccine that African governments have started to order is the one developed by Oxford and Astra Zeneca.
Wang's Tanzania visit has confirmed Beijing's keen interest in rebuilding relationships with Dodoma, after economic ties have soured during President Magufuli's first term in office. The solemn signing of a contract for a section of Tanzania's new Standard Gauge Railway by two Chinese companies during Wang's visit can be seen as a symbolic gesture that Tanzanian-Chinese relations will be marked by cooperation rather than by confrontation during Magufuli's second term.
Wang's visit to Botswana has also been important. Gaborone had been one of the last fierce China sceptics on the continent under former President Khama. During his visit, Wang could now reap the fruits of Beijing's intensified political and economic engagements with Botswana since coming into office of President Masisi.
The official admission of Botswana and the Democratic Republic of Congo into the Belt and Road Initiative (BRI) during Wang's visit is a diplomatic success for Beijing and serves Chinese efforts to counteract growing public perceptions that the initiative might lose momentum. With the membership of the Belt and Road Initiative in Africa growing to now 46 countries, the Chinese government can plausibly maintain its narrative that it is successfully steering a new era of globalisation.
In the past, China has been accused of using "debt diplomacy" to build ties and exert power. What are responses to this claim from within Africa? Has China changed its approach in building ties to African countries?
TZ: It is crucial to acknowledge that Africa offers a very diverse picture in terms of external debt portfolios, with some countries having piled up significant amounts of debt owed to Chinese creditors but others not. The sustainability of lending is highly dependent on political and institutional contexts in African countries. We have seen sound and sustainable financial cooperation under China's Belt and Road Initiative in African states where solid project assessments, transparent procurement processes and sustainable debt management were ensured. Countries where these circumstances were missing are now the ones that struggle to service their debts. In countries such as Djibouti, Ethiopia, Kenya and Zambia, the 'easy money' that came from Chinese policy banks for infrastructure projects, combined with excessive borrowing from other lenders, has started to cause debt distress.
Especially African 'anchor states' in China's Belt and Road Initiative, such as Djibouti, Ethiopia and Kenya, have increasingly faced difficulties to meet their debt service obligations, as grace periods of the loans for large-scale infrastructure have come to an end and repayments eat up significant shares of public budgets. Waning debt sustainability as well as the questionable economic viability of some Belt and Road 'flagship projects' has sparked political controversies in some African capitals. For instance, Kenya's Standard Gauge Railway (SGR) has incurred a combined loss of $200 million between May 2017 and May 2020. At the same time, the Kenyan government is contractually obliged to pay almost $30 million every quarter in fees to Chinese-owned Afristar for the operation of the railway. The situation is similar in the case of the Chinese-funded Addis Ababa-Djibouti railway which reportedly generated $40 million in revenues in 2019, while its operating costs were $70 million. Even though a relatively small portion of Nigeria's external debt is owed to China, the terms and conditions of some Chinese loans have lately become a highly controversial issue in Nigerian politics. Wang's choice of Abuja as one of his destinations served the purpose of counteracting anti-Chinese sentiments in Nigeria by pledging Chinese support and investments.
Announcing the cancellation of some of the DRC's interest-free debt that matured last year is in line with China's enhanced efforts to demonstrate that it is an accommodating lender and to counter allegations of a Chinese 'debt trap'. However, just as other creditors, Chinese policy banks have shown little interest in granting blanket debt forgiveness to highly indebted African countries. Debt will therefore remain a politically sensitive issue on top of the agenda in China-Africa relations in 2021, as the ongoing Covid-19 pandemic further curtails the debt service capacity of African treasuries. Especially those states that took on concessional and commercial debt for large-scale infrastructure projects under the Belt and Road banner are likely to require further debt rescheduling. The Chinese government will face the increasingly difficult task of maintaining the image of a benevolent development financier for the Global South, whilst simultaneously cashing in on its loan-debt investments in Belt and Road countries.
Extensive loan financing has become increasingly risky for the Chinese government – not only economically but also politically. The Chinese government is well aware of the risk of the debt bubble that has been created through the Belt and Road Initiative. Whilst the Chinese economy is robust and seems to recover quickly from the COVID-induced contraction of the global economy, a domino effect of debt defaults in major BRI participant countries would not leave the Chinese economy unscathed. As a result, we are currently witnessing a gradual shift in the financial governance of China-Africa relations, not least in the context of the Belt and Road Initiative. In recent years, there has been a significant decline in loan financing from Chinese policy bank as a result of stricter risk assessments. There is also a gradual shift from public loan financing towards public-private partnerships that entail project finance, whereby African infrastructure is financed, constructed and operated by Chinese investors.
Wang's statements in the DRC, Nigeria and Tanzania must be understood as a reassurance for African governments that China wants to remain the partner of first choice to develop the continent's infrastructure. Whilst lending from China Exim Bank and China Development Bank has become more conservative in recent years, Chinese policy bank will continue to fund viable projects in sound fiscal contexts to keep up demand for Chinese construction firms in Africa.
With the incoming Biden administration, how do you see Africa's role on the global stage?
TZ: Over the past two decades, Africa's geo-political and geo-economic importance has significantly grown as a result of China's rise and active engagement with the continent. Thus far, US administrations have proven extremely slow to adapt to intensified political and economic relations between emerging powers and Africa. The outgoing Trump administration has failed to recognise the growing importance of the continent by holding onto a narrow focus on security-related matters. Under the Trump administration, China's alleged 'debt trap diplomacy' has been politically instrumentalised to delegitimise China's engagements in Africa, without offering viable alternatives to African governments. The incoming Biden administration will have to do more than this if it wants to be considered as an alternative partner in the continent's development by African governments and regional organisations.
Biden would be well advised to finally end the long-standing niche existence of 'Africa policy' in order do justice to the increasingly important role the continent plays in global affairs. Some of Biden's cabinet picks are an indication that the President-elect intends to give Africa a higher priority in US foreign policy. Choosing Thomas-Greenfield, a high-profile Africa expert, as the next US Ambassador to the UN will certainly help to contrast the overall disinterest in African affairs under Trump. However, as we have seen after previous changes of government, swapping top officials is not enough to make Africa a priority in US foreign policy. For this, political will and commitment in the White House is required as well as a fundamental review of existing policies vis-à-vis Africa, key among them the African Growth and Opportunity Act (AGOA).
In terms of trade volumes, the AGOA has been plodding along, with US-Africa trade stagnating and several main export commodities from Africa still being excluded from duty-free access to US markets. The US administration would have to reconsider its protectionist policies particularly in the agricultural sector if it was serious about growing trade with Africa. If US businesses want to compete with their Chinese competitors in African markets that are rapidly growing, the US equally has to offer incentives to African exporters in areas where they enjoy competitive advantages.
For Biden to substantiate that Africa matters to the US, it will not suffice to come up with yet another largely symbolic presidential signature initiative. Both Obama's signature 'Power Africa' programme as well as Trump's private-sector focused 'Prosper Africa' initiative have remained far behind expectations. US support for sustainable development and industrialisation in Africa demands comprehensive political and economic cooperation with African governments and regional organisations. It remains to be seen if the incoming US administration has the political will and the economic means to intensify US-Africa ties.