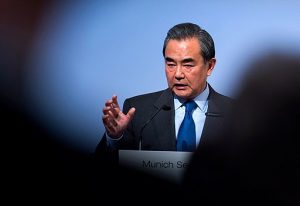 I gave an interview on topical issues in China-Africa relations in anticipation of Chinese Foreign Minister Wang Yi's Africa tour. Some of my answers can be read below.
China's Foreign Minister Wang Yi will pay official visits to Nigeria, the Democratic Republic of the Congo, Tanzania, Botswana and Seychelles from January 4 to 9, 2021. This trip is different compared to previous years due to the coronavirus pandemic that has ravaged economies and the debt crisis in many African countries. Why does this trip matter for China and each of the countries, Nigeria, DRC, Tanzania, Botswana and Seychelles, amid the challenges?
TZ: It is very likely that Chinese support for Africa's response to the Covid-19 pandemic will be on the top of the agenda during Wang's Africa visit. The timing of the visit is not coincidental, as discussions around the global distribution of Covid-19 vaccines are in full swing. The race for a corona vaccine and its distribution in the Global South has become a geopolitical matter. For the Chinese government, the provision of a vaccine that is affordable and does not pose unsurmountable logistical challenges is not only a humanitarian question but also an opportunity to flex its 'soft power muscle' in Africa. With Sinopharm having released promising data from phase 3 clinical trials and Sinovac's vaccine having recently been approved in Egypt, the Chinese government has a heightened interest to diplomatically facilitate the roll-out of these vaccines across Africa. Wang can be expected to do exactly that in the African capitals he will visit. China's 'vaccine diplomacy' is likely to become even more pronounced, as it looks as if Western governments will grab all available vaccines for months to come. The Chinese government in turn has always emphasised the necessity to make a vaccine available to Africans as soon as possible.
For the African market, Chinese vaccine candidates offer crucial advantages. Unless and until heavily subsidised by the West, the Moderna and Pfizer/Biontech vaccines are simply unaffordable for most African governments. Equally important, three out of the four most promising Chinese vaccine candidates, including the one from Sinopharm, use a weakened or inactivated form of the virus. This comes with the advantage that the vaccine can be transported and stored at much higher temperatures than mRNA vaccines, which in turn caters much better for the logistical realities in many pats of Africa, particularly when it comes to the distribution of vaccines beyond urban areas.
Economically, Wang's visit must be understood as an affirmation of China's commitment to Africa amidst the economic turmoil caused by the Covid-19 pandemic. Particularly resource-rich African economies, such as the Democratic Republic of Congo and Nigeria, are highly dependent on Chinese demand for their post-Corona economic recovery.
At the same time, China has a heightened interest that the recent political debate about Nigeria's indebtedness to China does not adversely affect Chinese interests in the country's oil sector and in Africa's largest consumer market. With crude oil prices still below $50 per barrel, a post-Corona recovery of the Nigerian economy is highly dependent on trade with and investment from China.
The situation is similar in Botswana which, since coming into office of President Masisi in 2018, has stepped up efforts to attract Chinese investments. At the same time, the Chinese market has become an important destination for the export of raw materials, such as copper and coal, as well as agricultural produce, especially meat products.
Before the Covid-19 pandemic, the Seychelles had become a popular destination for Chinese tourists, with the island country offering visa-free entry to Chinese nationals. The tourism industry has obviously been hit particularly hard by the Covid-19 pandemic. The government in Victoria will certainly use Wang's visit to display the Seychelles as a good destination for both Chinese investments and tourists in a post-Corona world. For China, good relations to the Seychelles are of geo-strategic significance, not least because India maintains a radar station in the island state.
Wang's scheduled Tanzania visit is yet another sign of a rapprochement between Beijing and Dodoma, after economic ties have soured during President Magufuli's first term in office. Chinese involvement in several large-scale projects, such as Tanzania's Standard Gauge Railway and a planned mega-port and Special Economic Zone in Bagamoyo, fell victim to Magufuli's rigid anti-corruption campaign and populist-nationalist economic policies. However, there are signs that China will play a more important role for Tanzania in Magufuli's second term. In a recent phone call, Presidents Xi and Magufuli committed to their countries long-term 'all-weather friendship'. During his visit, Foreign Minister Wang is expected to meet with President Magufuli in Chato, another sign that, in his second term, Magufuli is seeking closer proximity to Beijing. Tanzania is a crucial participant in China's Belt and Road Initiative (BRI). Several large-scale projects, such as the planned mega-port and Special Economic Zone in Bagamoyo and the rehabilitation of the Tanzania-Zambia Railway Authority (TAZARA), are considered priority projects under the (BRI). With neighbouring Kenya facing serious economic and fiscal difficulties, Tanzania is an important alternative 'gateway to Africa' for China. Wang's visit will therefore aim at winning the support of the Magufuli administration for Chinese investments in key sectors, such as infrastructure.